RIDER EYE EQUESTRIAN HI VIZ - MADE IN THE UK.
Rider Eye's aim is to keep both horse and rider safe on the roads. This small British made specialist hi viz has been designed (and tested!) by me and started with a tabard, but has now expanded to many more hi viz products including tabards and hatbands with LED lights. New addition of a LED warning triangle for your vehicle.
The reviews speak for themselves, they work!
Wearing hi viz gives drivers a vital 3 extra seconds to see you - and to slow down.
MODERN HI VIZ FOR TODAY'S ROADS.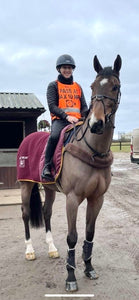 BE BRIGHT NOT DIM
Even on the brightest best weather days, rider in dark clothing can't be seen clearly from a distance. On dull days you can quickly become almost invisible. Other road users might not see you... Until it's too late.
Shop Hi Viz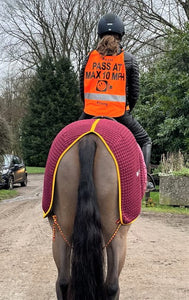 THE MAGICAL THREE SECONDS
Hi Viz should be worn in any weather, at any time of year, at any time of day.
At 30mph 3 seconds is the width of two dressage arenas 
At 50mph, 3 seconds is the length of a hockey pitch 
SHOP HI VIZ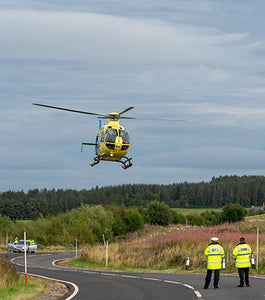 HI VIZ FROM THE AIR
3 seconds gives you half a mile!
Even if you never go near a road - wear hi viz. If you have a fall you will be seen far more easily by an air ambulance (this happened to a friend of mine with a broken ankle up on the Ridgeway)
Shop Hi Viz
Reviews
I find that I really have to think carefully about where and when I ride where I am located as we can get a lot of traffic the roads, and not always helpful! I have always worn hi viz which has had some beneficial effect, however, I have noticed a real improvement since purchasing the rider eye tabard in traffic actively slowing to pass me. The size of the lettering and the immediately recognisable symbol for filming I think really makes drivers think and therefore react. Its made my hacking a more enjoyable experience again. CLARE GETTINBY
Highly recommended, had a nasty experience yesterday whilst we (3) of us hacking along a lane with blind corners. A car was heard coming very fast from behind, almost crashed into the back rider and looked very angryand was about to be abusive. I as lead turned around my rider Eye tabard clear and my go pro clearly on my head. The guy's attitude changed immediately apologising saying he was in the wrong would be more careful when passing horses. The tabard certainly seems to work well. FIONA LONG
I was lucky enough to win one of the hat hi viz, with lights 🥰 its absolutely fantastic !! Fits great, and superb for hacking out, the lights have 3 settings and are so easy to charge! Would definitely recommend, and already people at the yard, where I'm stabled have put orders in HELEN ROBINSON
Recently ordered the Hi Viz pink hat band and tabard. Delivery was very prompt. Really noticed a difference in driver and cyclists behaviour since wearing it instead of a traditionally worded one. TABITHA BARKER
Well yesterday it was pouring with rain when we rode so I grabbed my hi viz coat and forgot my Rider Eye tabard. Well I can honestly say I had a really hideous ride and saw a real difference with how traffic passed us. It ended up with me shouting at a driver who then got out of his car for a confrontation when it became blatantly clear he really didn't know how he should have passed us. I am NEVER riding without my tabard ever again! My daughter who initially didn't want to part with her existing tabard wants one as well plus a quarter sheet for good measure.
Excellent service and high quality. Love the tabard and really noticed that cars slow down, pull over and even reverse out on hacks. All my friends ask where I got it so will be directing them to you. SARAH NEWBIE
Having tried many hi viz options over the last 20 years I can honestly say Rider Eye is the best. The area where I stable my mare has around 6 different yards on one road along with a high number of walkers and cyclist's also within the immediate area. During lockdown it has become extremely busy with walkers, etc and I have been complimented several times by road users both cars and cyclists saying the hat band with the lights on is by far the best for visability and bearing in mind how many horses are in the area with various different hi viz on it speaks volumes for the quality and design of Rider Eye products. Whenever I ride out now I always use the hi viz tabard and hat band with lights and have just purchased the camera! If you value your and your horse's safety, this is the best investment you could make. JUSTINE HARRY
I love the numberbibs - the quality is amazing 🤩 easily adjustable, comfortable fitting and secure, stays well fitted, doesn't move about 🤗 Love the pouch with the numbers Definitely a quality product 🧡 Number bibs can be very uncomfortable to wear, stiff and ride up under chin lol!! Love mine!!! My friends will be well jealous 😂 So I'll tell them to buy one too!!! TRACEY DAY
The most effective hi viz I have ever used! I hack out regularly and wearing the Rider Eye tabard has a noticeable effect on traffic. I ALWAYS wear hi viz when hacking so have tested a few, however this by far is the most effective. Drivers slowdown earlier and make more effort to pass us safely. I cannot recommend this product enough! KATIE HANCOX - INFORMED RIDER COACHING
Both the Minibibs and VisBibs are so easy to use. Neither my daughter nor I would be without them. MIRANDA HEYNES
I have just bought a tabard with LED lights and I have to say they are fantastic. PAT MALLABURN
Bought 2 new tabards with lights recently and they really do work. the traffic definitely slowed down. I have to do onto a very busy road every day to get onto quiet roads and the lights flashing and camera logo definately helped. EMMA MAXWELL
BRAND AMBASSADORS
Caroline Mosley
Caroline was one of the original users of Rider Eye and has been so supportive - with lots of great ideas!  (thanks to her we have Orange).  She has show jumped for her country at junior level, currently competes at Intermediate and teaches at the Dick Vet School. You can read far more including her potential riding ending car crash on her website. 
Visit Orange Fox Eventing
Sophie Seymour
Sophie is pictured here with her horse Roo.   Sophie is a professional rider and trainer based in Gloucestershire and specialises in young and problem horses.  Sadly Roo is no longer with us but in his memory Sophie has founded 'Roo's Legacy' where she brings on, for free, a horse whose behaviour has rendered it unrideable - and she is their last chance.  Sophie also team chases and events.
(photo credit to Indy Equine Photography)
Follow Sophie
Gem Gilbert
Gem is a 25 year old engineer and her eventing bug began when she started doing some 60cm/70cm events on a loan horse. This led to riding an awesome veteran who built her confidence up after a nasty fall. She went on to buy Conner; her first ever horse and 4 years on they have competed at two British Riding Club National Championships.
Follow Gem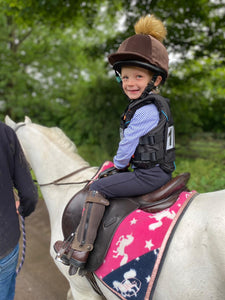 Amelia and Choccie
Amelia may be only 5 and at the start of her equine adventures, but she has already done her first One Day Event! (Choccie said that he did most of it!). All ponies deserve a little person to love them. Follow them on Facebook and Instagram under @adventuresofmealie